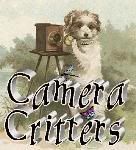 Spring Break is here and with that, finally some time for my camera and I to get out and explore and hopefully capture some interesting shots!! :-)
In the mean time, from my 'memories' folder is a snap of two of my best friends, taken about 17 years ago.
Nikki (dog) and Mischief (cat) were also best of friends, as can be seen in this photo.
Nikki had heaps of character.
One of my funniest memories of her, was the day she was outside supervising the ex-hubby as he mowed the lawn. I stuck my head out the door to check on them and noticed no Nikki, however there was this woman, in a full skirt, walking along the footpath doing a funny kind of dance and furiously batting away at the back of her dress.
Poking out from beneath her skirt was a furiously wagging tail and four long, golden, furry legs, none of which belonged to her.
Apparently, Nikki had seen a new, potential friend walking by and decided to zip under her skirt and introduce herself, in time honoured doggy fashion, by sniffing her butt.
The woman did see the funny side, once we had rescued her from our over friendly 'other child'. I did notice though, that next time she walked by she was wearing jeans. :-)
Mischief definitely suited her name.
She was originally supposed to be my daughter's cat. However, as a small kitten she was very ill.
The vet told us that she probably would not survive. I spent the next week nursing Mischief. I carried her around with me during the day and she slept, nestled on my chest at night. I fed her liquids and medication, every couple of hours with an eyedropper. Slowly she recovered, however, she then adopted me as her Mum and followed me around everywhere.
I was in the bathroom one day, enjoying a few minutes of peace and tranquility. I'd locked the door on all four kids, plus Nikki and Mischief, all who would have joined me given half a chance.
Next minute there was a scrabbling at the top window and a small,furry black and white missile launched herself through.
Mischief was not going to be separated from her 'Mum'. She had climbed on to the work bench, that was outside the kitchen window, scrambled up onto the kitchen roof and then jumped onto the overhang over the bathroom window and then made a leap of faith at the open top window.
Fortunately the kids and the dog did not follow suit !
Our furry friends certainly leave us with plenty of fond memories.
What are the fondest memories of your 'babies' ?
Now go to
CAMERA CRITTERS
and join in the fun.