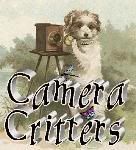 Last Saturday, the hubby and I took our little friend Taylor, out to the new Scheels store, that has opened in our area.
At both entrances/exits to the store, they have these large arches, that are actually fish tanks. One side has a fresh water tank, the other is a tropical.
Young Taylor spent some time watching this big fella. It's a catfish, for those of you who are not familiar with them. I'm told that this is quite a little one, compared to what others have seen.
In one of the wings of the store, they have this large display mountain, with assorted creatures of the wild.
This area does not have much in the way of museums or zoos, so for many kids, a visit to this exhibit is the only way they may ever see these animals as they, almost, really are.
Being, originally, from a country where many of these animals can only be seen in the zoo, I'm hoping I have got their names right!!
This badger looks as though it is alive and well and wondering why I'm pointing that
flashy thing at him!
Bobcat and Wolverine...
I think these might be Prairie Dogs ??? Like the way they have one of them posed scratching it's ear.
The wily Coyote. We have many of them in this area and because of the ongoing drought, it is not unusual to see them fairly deep in the city environs. People living in the outskirts of the city, have to be wary about leaving pets outside, unsupervised, especially cats and small dogs.
The three photos, above, come from the wolf part of the exhibit. Shows a deer attempting to defend itself against a pack of wolves on the hunt. I thought they were well posed.
Now go to
CAMERA CRITTERS
and join in the fun.