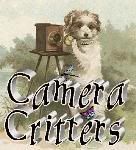 Which is what this poor little duck seemed to be saying..
(click to enlarge)
An idiotic couple, with a pit bull in tow, were thinking it rather funny to set their dog to chasing this little girl.
She was clearly terrified. However, when she spied me sitting on the riverbank, she paddled over, quacking loudly. She then settled down in front of me and started preening her ruffled feathers.
I guess she saw me as a haven of safety.
I was glad to sit and keep her company until the two twits moved off...
People who allow their dogs or kids to terrorise the wildlife and think it funny, really get my ire up.