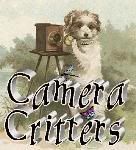 I know there are a few knowledgeable people out there, so perhaps one of you would be able to tell what type of ducks these three are. You can click on any photo to enlarge..
The closest I could find to this one, was a Magpie duck .. but it's bill, amongs other things, seems wrong for the breed. We have a small number of these at our local lake.
This one is a pretty tan and seems to hang around with the black and white duck. I'm wondering if they are a mated pair. Or is this a juvenile female Mallard ?
This kind of looks like a male Mallard, as it has that gorgeous, iridescent green on it's head. However it doesn't have the chestnut breast or the white ring around it's throat, that I'm used to seeing with Mallards.
Is it a juvenile ?
Now go to CAMERA CRITTERS and join in the fun.