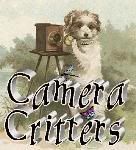 Haven't had much in the way of a snowfall this year. However, a couple of years ago we had quite a bonanza.
Both Meesha and Sparky were in doggy heaven. They discovered it was fun to dive off the deck into the snow.
Meesha popping to the surface ....
Heading back to the deck for another go...
Sparky, dog paddling in the snow ...
His tail was wagging happily as he paddled through the snow. :-)
Go to
CAMERA CRITTERS
and join in the fun.