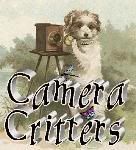 In the last three weeks, I've been out to Animal Ark, twice, on field trips with kids from school.
First time was a group of second graders.
The second time was with about 90 kindergarten kids. That was .... interesting ! We managed not to lose any, despite the kids best efforts...
Animal Ark is an animal sanctuary, near Reno. It takes in animals that for whatever reason, can not be released back into the wild.
For many or our kids, it is the first time and possibly one of the only times, that they will see real, live animals of the type that are at Animal Ark.
While I would much rather see animals like this, wild and free ... they do serve as a valuable teaching tool for these kids.
(Click on any photo to get a better view)
This is Effie, an Artic Fox.
She was raised by humans but escaped from her owners. After a short stay with a Wildlife Rehabilitator she went to a wildlife park. however, she did not do to well with the other foxes.
She then came to Animal Ark, where she has lived quite happily in her big enclosure..
Another sot of Effie, taken on this weeks visit.
As you can see, she has a very sweet face and was very curious about us...
Meet Tonka, the mountain lion..
Tonka was bred to be trained for films, studio work and magic tricks. As he got older it became clear that he was not suited for this work.
Unfortunately, the usual fate of animals deemed to be unsuitable, is euthanization.
Fortunately , in Tonka's case, Animal Ark agreed to take him in.
One of the three cheetahs at Animal Ark. I think this one is Zulu.
I believe she came to Animal Ark from a private breeding facility. She has helped raise over a million dollars for cheetahs in the wild.
These two may be Moyo and Jamar. They came to Animal Ark for the De Wildf Cheetah and Wildlife Trust in South Africa.
They take part in educational programs, a running program that hopefully will help exercise other captive cheetahs and as Animal Ambassadors.
Now go to CAMERA CRITTERS and join in the fun.