a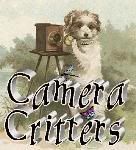 As a child, growing up in New Zealand, my Grandmother used to read to me from Beatrix Potter's 'The Tale Of Peter Rabbit.'
Ever since then, I've had rather a soft spot for these furry creatures....
I happened upon this little fella, on Friday, while on a field trip to the Animal Ark (a local animal sanctuary) with a group of second graders.
It wasn't one of the Ark's animals, but had chosen to make the Ark it's home.
While it was not tame, it obviously tolerated humans and was curious about what I was doing, as it followed me for awhile.
It was very good at posing for photographs. Holding it's pose as I fiddled with the hubby's digital camera.
I'd forgotten to bring some extra rolls of film for my camera.:-(
You can click on each photo to enlarge it...
"Well .... hello there!!!"
"BTW, I do not have an abundance of whiskers .... I'm carrying around some dried grass"..
"Okay... you look harmless, so I'll keep on hunting for food"...
"Time I went home now .... byeeeee !!"
"Oh, you're still there" ....
"Look .... I'm getting a bit tired of this posing thing !! Haven't you already taken, like, a zillion pictures ???"
"Okay, one more time. Now please go home, already !!"
Now go to
CAMERA CRITTERS
and join in the fun.