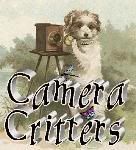 This week, we are out of the desert and into the water... I took these during a walk around the lake, late in the afternoon, last Monday.
Never fails to amaze me, how many different shadings I can see on the ducks at our local lake.
(Click on any photo to enlarge)
This little one had some interesting brown markings on it's head ..
This young lady paddled along beside me, around half the lake. She was obviously hoping that I had food in the pockets of my camera vest..
I loved this black and white duck....
These three had me amused for awhile.
The drake beside his mate, had one eye on me and the other on the drake behind him, who was valiantly trying to attract the attention of the female.
Every time he swam towards the pair, the other drake would drive him off with wings flapping and beak outstretched. Quite funny to watch..
Another one of my camp followers, a goose this time, who was hoping for a handout. He even came up out of the water at one point and plodded along behind me. :-)
Now go to CAMERA CRITTERS and join in the fun.