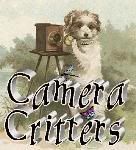 Starring, Meesha, the intrepid fossil hunter and a couple of fish and some clams ..(you can click on any of the photos to enlarge)
" Mum, that's a lot of desert out there ! Are you really thinking we can find some fossils?? "
" I'm a hunting high and low, Mum. Running hither and thither. I'll find them fossils, you just see if I don't !! "
" MUM, MUM ... FOLLOW ME, I FOUND SOME !! "
" When you said you were going to find fish, Mum, I wasn't picturing this !! "
" I'd break my teeth trying to eat that fish, Mum !! "
" Hey, Mum ... those clams would make great chew toys ! "
Last Saturday, we spent the day, looking for fossils in the bed of what was, many thousands of years ago, ancient Lake Lahontan.
You can read a little about Lake Lahontan
here
It's quite an incredible feeling to be holding in your hands, the fossils of creatures that lived 9000 or more years ago. I'm pretty sure that the fish fossils are Nevada Sticklebacks (Gasterosteus Doryssus). In the second photo, it looks as though the fish had been eaten by a large clam.
The third photo shows three of the clams that I found. The large one, in particular, has a lot of detail. I'm going to try cleaning it up a little with sandpaper.
Meesha, as can be seen by the photos, had quite a ball and actually found at least one clam. :-)
Now go to CAMERA CRITTERS and join in the fun.