a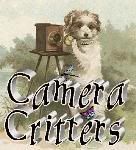 HAPPY CAMERA CRITTERS ANNIVERSARY, EVERYONE !!!
We are fortunate to have a small lake, less than a 10 minute walk from home. It's one of my favourite places for watching the local wild life...
I wandered over on Tuesday, to get some practice in on the 35mm SLR I bought. I far prefer the crispness that film photography gives, however, the downside is that you have to wait for the film to be developed!
These shots were taken with my digital camera ..
I happened to glance to my side as I was walking and noticed this pretty, little, lady keeping pace with me. She posed obligingly so I could snap this pic.
This handsome fella, dogged my footsteps for awhile. I think he was hoping that I'd hand out a bit more food..
Sadly the lake appears to be falling victim to our current water woes. The water normally comes up to that line of rocks in lower, left, foreground..
This would normally be a stream, feeding into the lake, that is usually full of ducks.
After a fairly dry Winter, we have had a series of good, wet, late Winter/early Spring storms, so hopefully that will mean the stream will be running with water, again, very soon !!
Now go to
CAMERA CRITTERS
and join in the fun.