a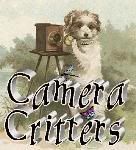 From this morning's walk over to Virginia Lake...
Why am I loading a photo of the back end of the horse ??
Well .... because all the rest of the photos of the horse were x-rated ...
You know that Mae West quote 'Is that a gun in your pocket or are you pleased to see me?'
Well, I walked up to the fence, the horse gave this loud neigh and then proved not only was he a he, but he was also more than happy to see me ...
I couldn't get an angle, other than this one, that didn't look like I was shooting a porn pic !!
Snoozin' on a rock ....
'Got any food Lady???'
Spring is here and so are the babies. :-)
Now go to
CAMERA CRITTERS
and join in the fun.